I'm reading Instapundit when I come across this story about a black bear attacking a boy in the Smokey Mountains:
The incident began about 7:30 p.m. when the boy, Evan Pala of Boca Raton, Fla., was playing in a creek about 300 yards from the trailhead of Rainbow Falls Trail, which is near the Roaring Fork Motor Nature Trail, Miller said.
Wow – just last Thursday we (AKA the Murphy Family) parked at the Rainbow Falls trailhead and hiked up to Rainbow Falls. I did prep us by reading the blurb on the map on what to do if a bear attacks (don't approach or run away, but if attacked fight back) although I think only I paid much attention. I have to admit after reading about the 2 bears per square mile density I was nervous with all the smellables we were taking on the hike, including lunch.
We didn't see hide nor scat of bear on our hike (thankfully), although when we got back to the van someone had written "Go Patriots!" in the dust of the back window. This really weirded out the Murphy women since somebody figured out what school the funDaughter goes to with just a PS sticker and Missouri plates to go by.
Anyway, here's a picture of the falls: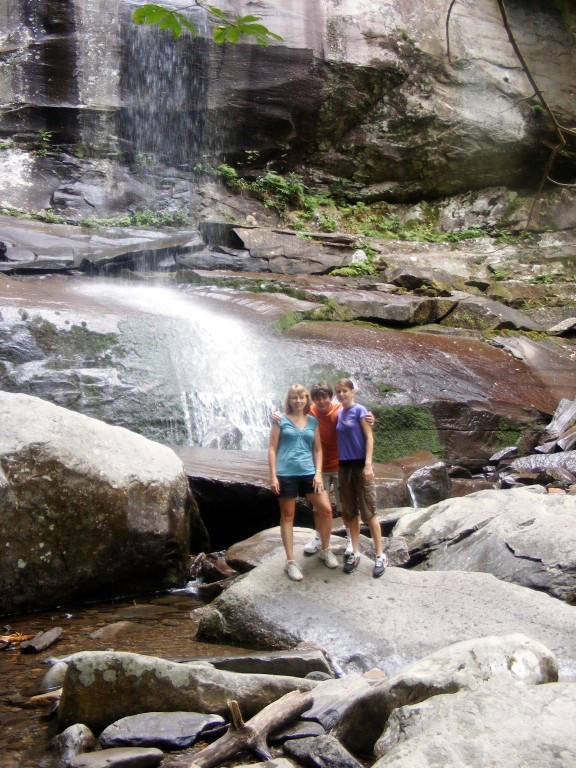 RAINBOW FALLS
Our hearts go out to the Pala family and we hope and pray they make a full recovery.