After three years of learning French in school, my daughter really wanted to go to France. Looking into it pre-trip, we considered driving to Lyon to see what was shaking in France, but decided instead to take the 35 minute boat ride across Lac Leman to Evian les Bains. Oddly enough, they spoke French there just like they did across the lake in Switzerland. I couldn't tell the difference, to tell you the truth — the same architecture, language, lifestyle, even signage (road and pedestrian). The only difference was they used Euros instead of Swiss Francs. And being a little farther south, it did feel hotter. I only discovered after my return home of that it is the birthplace of Evian water and the site of the 2003 G8 summit.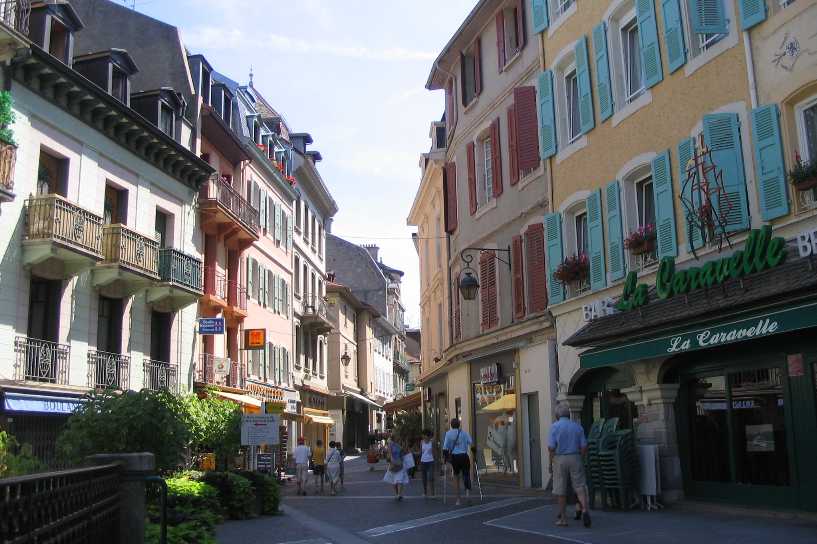 DOWNTOWN EVIAN LES BAINS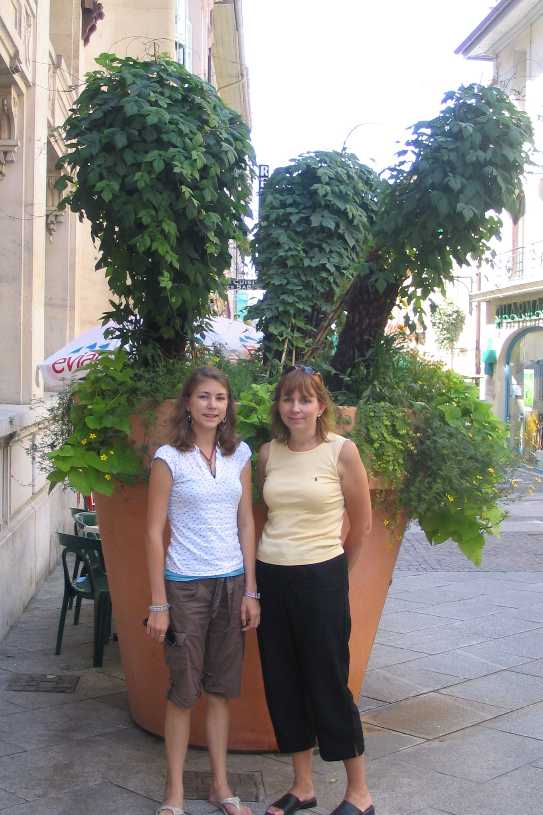 GIANT POT WITH MUTANT PLANT PLUS A COUPLE OF CUTIES MAKES FOR A GREAT PHOTO
Surprisigly, Evian has a minature golf course, so we were able to continue the Murphy Family tradition of playing putt putt golf on vacation – the keeping track of the score, the feuding between the kids, the arguments over who is carrying enough of our stuff from hole to hole, and the ritual losing of a ball. It may not be a good tradition, but it is ours. This course provided a notable twist — a large group of what turned out to be British school kids started to play shortly after we started the course. The management broke them into small groups and had them start all over the course in what I believe is known as a shotgun start.  The boys ahead of us (one of whom was called Dobby) had a rule that if your ball left the green you had to start over. As their balls quite frequently left the course, we frequently had to wait while one boy kept playing the same hole over and over. Still, as my Grandfather once observed about peeing on the continental divide, not many people have played an American invention in France with British schoolboys. I'm hoping I never do again.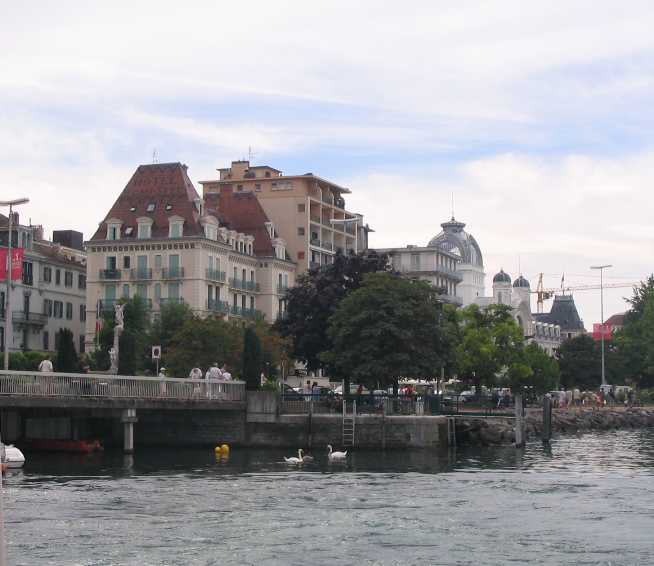 EVIAN FROM THE LAKE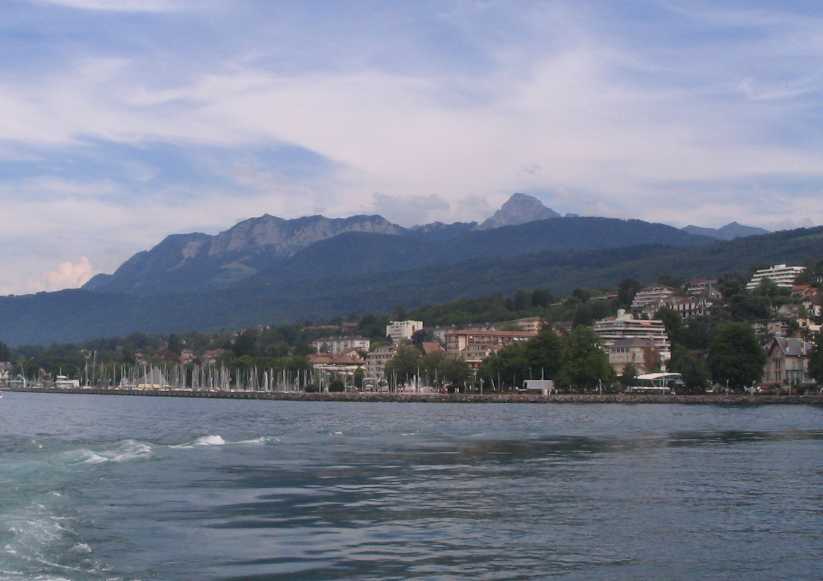 MOUNTAINS TOWERING OVER EVIAN
We really enjoyed the boat ride across the lake, but it wasn't without its faults. The biggest is that you can only leave when the boat leaves, and while once every two hours sounds pretty frequent, we did spend some time wilting in the heat hoping the boat would hurry up. And when we left, just as we got up to full speed, the engine slowed way down and we turned around and went back to the dock. I was leaning against the stern rail, and the distaff side of the family sitting a little ahead of me inquired as to what was happening. I informed them that the boat was broken and we were returning to port for repairs. As it turned out, we had left a little early, and the boat was returning to pick up several passengers we had left behind. The distaff side was unhappy with me when it was clear that my explanation was wrong, but at least they stopped complaining when I inquired how they thought I would know anything about the operation of the boat standing at the stern rail — telepathic communication with the captain perhaps?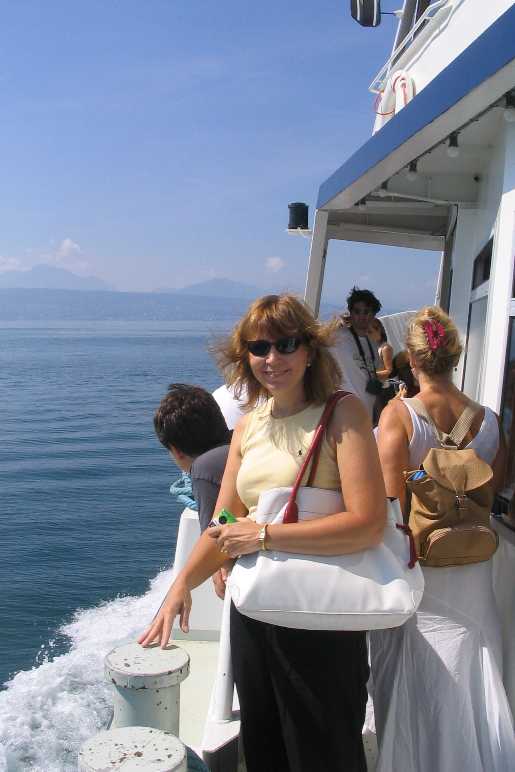 WHO DOESN'T LIKE TO RIDE A BOAT?

THERE IS NO SHORTAGE OF SCENERY IN SWITZERLAND
Our hotel in Lausanne charged big bucks for their breakfast – like $80 for the four of us – so we always found alternates. The first day we ate the pop tarts we had brought along. The next day we hiked halfway up the hillside to a restaurant and had croissants. While my wife had coffee, I ordered orange juice and got tangerine juice. The day after that we stopped in at a boulangerie, bought a variety of tasty food, and took it back and ate it on our balcony. The day after that we really went native: Kyle and I went to the Migros market and bought yogurt and croissants to eat. We weren't fully native since the milk I thought was 2% turned out to be half and half cream. I also had to buy a pack of 100 plastic spoons to eat the yogurt with, which left us with 96 spoons for the rest of the trip. As the yogurt was kiwi and something (OBG) we'd never heard of before, there was some resistance to eating it. My wife was convinced when I told her it was on sale, but no amount of cajoling could convince my daughter to eat any beyond her first bite. Thankfully, the rest of the hotels had a nice breakfast included so I was not dispatched to buy food with labels I couldn't read again. Another experience I'm glad I had but one will do me, thank you very much.